Website Name

Moonflower Society
Website URL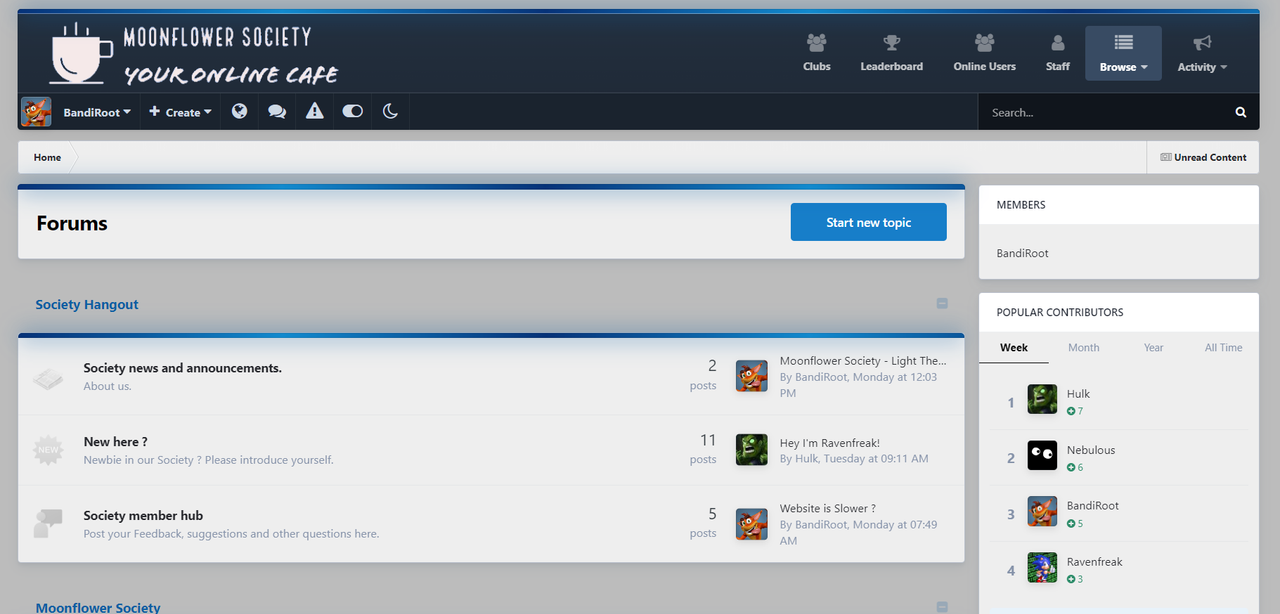 *Welcome to Moonflower Society - Your Online Café!*


Step into the nostalgic world of Oldskool: reminisce about classic games, vintage tunes, and the golden era of entertainment. Share your favorite memories and discover hidden gems from the past.


Game Corner: Level up your discussions on the latest gaming trends, share tips, and connect with fellow gamers. Whether you're a retro enthusiast or into cutting-edge titles, this is your space to game on!


General Chat Lounge: Dive into diverse conversations about anything and everything. From everyday experiences to intriguing debates, make yourself at home in our community hub.


Movie Buff Haven: Lights, camera, action! Discuss the hottest releases, timeless classics, and hidden gems. Share your reviews, recommendations, and find your next cinematic obsession.


Series Salon: Unleash your binge-watching prowess! Engage in lively discussions about your favorite TV series, explore new ones, and connect with fellow series aficionados.


Car Enthusiast Garage: Rev up the engines and talk all things cars! Share your ride, discuss the latest models, and swap tips on maintenance and modifications.


Holiday Hideaway: Plan your dream getaways, share travel stories, and exchange tips on the best holiday destinations. Escape with us to the world of wanderlust!


Sports Arena: Score big in our sports zone! Whether you're a fan of touchdowns or three-pointers, share your passion for sports, discuss matches, and cheer for your favorite teams.


Melody Lounge: Tune in to the rhythm of life! Discuss your favorite tunes, discover new artists, and explore the diverse world of music. From classics to the latest hits, everyone's invited.


Joke Junction: Laughter is the best medicine! Share your favorite jokes, funny anecdotes, and bring smiles to the faces of your fellow Moonflower Society members.


Tech Talk Hub: Geek out in our tech zone! Discuss the latest gadgets, software updates, and emerging technologies. Stay connected with the tech-savvy community.

Join Moonflower Society and let the conversations bloom!
Last edited: